Model: Fiddleback
Fiddleback (Click Image For More Information)
The Fiddleback is one of the most popular long range precision hunting rifles we offer. Total dry weight of the rifle shown in above picture is 9 lbs 5 oz. with a 24″ fluted Light Palma Barrel. The Fiddleback comes in a variety of colors. Available in Short, Medium and Long Action in both left and right hand configurations.
With its solid tactical style receiver in combination of a stainless steel barrel custom bedded into an adjustable McMillan carbon fiber stock gives the Fiddleback plenty of rigidity making it one of the most consistently accurate hunting platforms in the world.
Total as shown above $3,987.00 (Optics and Bipod Not Included)
---
Model: Hood River Carbon Lite
Hood River Link (Click for More Information)
The Hood River Carbon Lite is a liteweight alternative featuring an H&H Lite Tactical reciever, Proof Research Barrel and a Manners Elite Hunter Series carbon fiber stock. The Hood River configuration average weight is 7 lbs 2 oz dry weight.
Click Here for More Information
Total as shown above $4,369.00 (Optics and Bipod Not Included)
---
Model: Monty Hunter
Click Here for More Information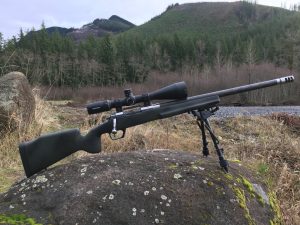 The Monty Hunter is one of light tactical hunting rifles featuring an H&H Hunter Receiver, Carbon Fiber Barrel and Manners MCS T3 stock. The Carbon Hunter Weights 6 Lbs 14 oz Dry Weight. 
In Combination with the Nightforce SHV 5 X 20 Scope the total weight is 9 pounds – 8 ounces including scope. 
Click Here for More Information
Total as shown above $4,495.00 (Excludes Optics and Bi-Pod)